The following resources may be used by parents and leaders in their efforts to protect youth. Several are available for purchase. Visit your local Scout shop or ScoutShop.org.
The Guide to Safe Scouting
Youth Protection & Adult Leadership.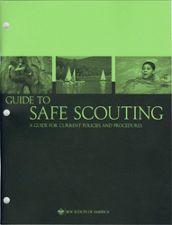 Cyber Chip
To help families and volunteers keep youth safe while online. Topics include cyberbullying, cell phone use, texting, blogging, gaming, and identity theft.
.
How to Protect Your Children From Child Abuse: A Parent's Guide
A booklet, included in the printed handbooks, providing tips to help parents talk with their sons about child abuse.
It Happened to Me / A Mi Me Pasó
This video should be used annually by Cub Scout packs or dens when Cub Scouts are accompanied by a parent or other adult family member. (English and Spanish facilitator's guides, and a sample letter to parents and guardians, are available.)
The following print materials may be obtained through your local council service center:
The Power Pack Pals comic books, available in English and in Spanish, are for Cub Scout-age boys and girls.
Power Pack Pals
Los Superamigos del Pack
First in a series of eight-page comic books for Cub Scout-aged kids, featuring T.C., Akela, and Baloo. Power Pack Pals features the three pals talking to kids about bullying and smart ways to deal with it.
Power Pack Pals: Be Safe on the Internet
Power Pack Pals: Seguridad en la Internet
Second in the series of youth protection comic books featuring Akela, Baloo, and T.C. addressing dangers that kids could encounter on the Internet and how to avoid them.
Power Pack Pals: Four Rules for Personal Safety
Power Pack Pals: 4 Reglas Para Seguridad Personal
The third installment in the youth protection comic book series featuring Akela, Baloo, and T.C. includes scenarios that advise kids about the dangers of strangers and inappropriate behavior by adults toward children, and what to do in scary situations.